Burlap Wine Bags - Eco-friendly Wine Bottle Storage Solution
Wine bottle bags to keep your wine bottles safely
Submitted on

Mon, 05/08/2023 - 15:59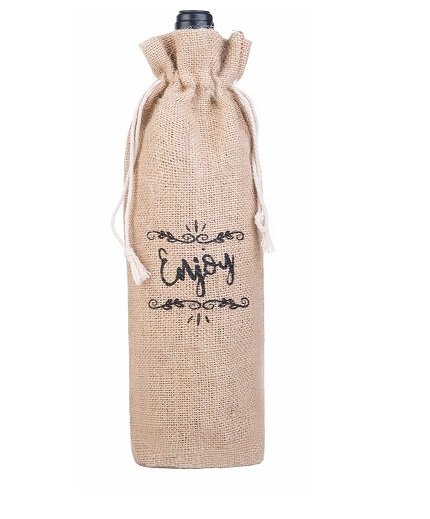 With the help of wine bottle bags, one can carry or move wine bottles and keep them with utter sophistication. Wine bottle bags might come in several forms, dimensions & styles to suit an extended range of preferences and requirements. Whether you are giving a bottle of wine as a gift, taking it on a holiday or picnic, or storing it in your wine cabinet, a wine bag is a terrific way to maintain it in excellent condition during its journey. Being useful, wine bottle bags can raise sophistication and elegance at any event that includes wine.
Why You Need Wine Bottle Bags?
In addition to being attractive for decoration, wine bottle bags have several advantages that render them a decent option for carrying and keeping wine bottles. The fact that they help to keep the wine at a consistent temperature is one of their most prominent advantages. A lot of wine bags come with insulative properties, so they can keep the wine cool if it has to be kept in the fridge or at room temperature.
Wine bottle bags regulate temperature and offer protection from breakage and scratches. Wine bottles are prone to being fragile and easily broken, especially when traveling. Wine bags can aid in preventing the bottle from being damaged or broken by bumps, knocks & other potential hazards. This is especially important if you're bringing wine somewhere or bringing it to a gathering where it can get mishandled.
Eco-friendly Materials for Wine Bottle Bags
Wine bottle bags are typically reusable and made of environmentally friendly materials - another advantage for them. As an ecological and waste-reduction choice, many wine bags are made using juco, burlap, jute, cotton etc. Also, reusable wine bags are a better option for the environment than single-use packaging, which could be harmful. You can drink in harmony with nature in this way.
Types of Wine Bottle Bags
Here we will try to educate our readers or potential buyers from USA about several types of wine bottle bags.
Single Bottle Burlap Wine Bag - Single bottle burlap wine bag is a basic bag for keeping wine bottles. They do not become complicated with drawstrings, windows or other features. This robust burlap bag epitomizes simplicity.
At Jute Planet, we offer a variety of customised single-bottle burlap wine bags to suit your preferences. Spills won't be a problem because we laminate the entire lining. You can just wash it off and use it again. Moreover, they can keep the bottle or object being transported dry. Due to having the simple and attractive rope handles, it can be carried everywhere with ease. Because they are fully printable, you may personalize them as needed. They are perfect for arts and crafts, custom decoration, DIY and rural weddings gifts.
Eco-Friendly Burlap Wine Bags with Drawstring - If you're looking for something attractive to store or carry your wine bottles, you can opt for using burlap wine bags with drawstrings – we supply them wholesale. It has strengthened stress points and is made of sturdy burlap fabric. They are not only affordable but also recyclable and reusable. With the drawstring closure and bottom gusset, these are perfect for gifting purposes. Pick one and left out for bachelorette parties, bridal events, birthdays, dinner parties & any similar events.
Customised Wine Bags - A personalised gift - like a wine bag, is a "tried-and-true" way to express gratitude to existing customers and draw in new ones. While many people spend a lot of time and energy searching for the perfect bottle of wine to offer as a business gift, they frequently struggle to find a cost-effective yet attractive method. Here customised wine bottle bags play a major role.
At Jute Planet, we supply wholesale customised burlap wine bags all over the USA. We provide a variety of wine bags that will astound your recipients. No more using conventional wine bottle wrapping materials like paper and satin ribbon.
With us, you can decide to decorate your custom wine bottle bags as you want – all you need to have an artwork sample. We can also do this for you - with a minimal fee. Even when you factor in the cost of the customisation service with the price of purchasing the identical goods pre-printed, your product will probably still be less expensive. So, it is up to you to send the design.
Conclusions
In addition to giving these wine-filled bags as gifts, it may be lovely to make them during your party and then distribute them as gifts. Your guests will have a memorable and enjoyable time with a beautiful wine bag!