Jute Grocery Bags- Benefits
Jute grocery bags for your daily use
Submitted on

Tue, 04/27/2021 - 21:51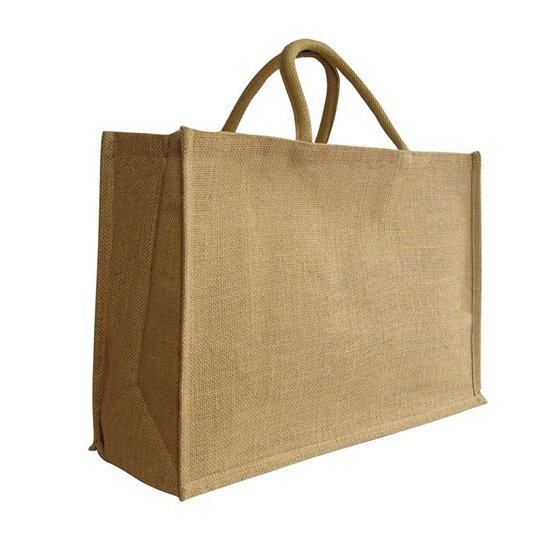 Groceries are an important part and parcel of our lives. We need groceries not only to cook tasty food but also to survive. Basic grocery shopping is commonly done daily and the essentialpart while doing grocery shopping is the part where you needto carry all that you have bought by yourself. You don't have people around you always to help you carry the groceries as the shopping is fairly done regularly. So, to help you put up with carrying your groceries without any issues even if you do not have anyone around at the particular moment to help you,we at Jute Planet have come upwith unique grocery shopping bags. These bags are completely made of Jute and there are several Jute Grocery bag benefits that you can enjoy when you do your grocery shopping with a Jute Grocery bag.
It can already be inferred from the name itself that jute grocery bags are made of jute wholly. Jute is basically obtained from jute plants which is organic and natural and can be grown easily without the use of chemicals and fertilizers. Also, the plants can easily feed its growth itself with rainwater or ground water and jute plants are hence found at places where rain and fertile wet soil is available in abundance.
The jute grocery bags manufactured by us are of the finest quality as we ensure that the fabric and the threads used to make the bag are of organic quality.
Raw jute fabric is manufactured first and then further sent for processing and added layers of jute fabric make sure that the cloth is strengthened before being designed into grocery bags. Jute grocery bag is completely natural and hence when you go grocery shopping with the all-organic bag dangling from your arms, you can be assured that all your shopped items will completely be in touch with an organic and eco-friendly bag.
Jute grocery bags are available in multiple sizes starting from huge sizes to small satchel sizes. But, as our jute grocery bags are specially designed and manufactured for grocery shopping, hence even the smallest size has a commendable width, length, and height and you can easily fit a lot of shopping into one bag.
We have customization options available for all our jute grocery bags and you can also add wheels to the bags if you want jute shopping bags with easy to drag features. It helps you to carry all your heavy grocery shopping without actually having to lift the weight and strain your muscles. This special customization option has also ensured that our jute grocery bags make grocery shopping and carrying easy for both the old and the young.
Another benefit that you get from using jute grocery bags is that you can keep all your grocery items in the bag and be worry-free regarding the items getting spoiled or being in contact with harmful chemicals while being kept inside the bag. Jute bags also ensure that your food items are not attacked by rodents or ants when raw fruits and vegetablesare kept in the bag.
The jute grocery bags are totally bio-degradable. The bag when thrown away simply decomposes without leaving any harmful residue and also in turn acts as a natural fertilizer for the soil making it more fertile. The bags do not emit any kind of harmful gases or chemicals during their lifetime. Manufactured in completely an eco-friendly manner the bags starting from its manufacture to its use till being disposed of, remains friendly to nature.
Using jute grocery bags also ensures that you do have to spend too much on buying carry bags made of paper or plastic. The jute grocery bags are durable and you can use the bags to even carry liquid grocery items as the bags are waterproofed with non- hazardous wax coatings while being manufactured.
Along with no maintenance requirements, the jute grocery bags also do not consume any kind of energy. These further make the jute grocery bags completely comply with the green bag term.
The jute bags owing to its strength can also carry heavy weight without getting torn or split all of a sudden like plastic or paper bags usually do. This gives you safe carrying security for all grocery shopping.
The bag is also anti-static in nature and does not conduct any kind of electrical currents. The jute grocery bags are also resistant towards magnetic properties which makes it perfect to carry electrical appliances as well whenever needed.
You can get jute grocery bags at Jute Planet with all the above mentioned and other multiple benefits at an unimaginably affordable price.