How to Wash Burlap Bags and Items - Beginners Guide
The best way to wash Burlap fabric or Jute bags
Submitted on

Thu, 05/25/2023 - 00:34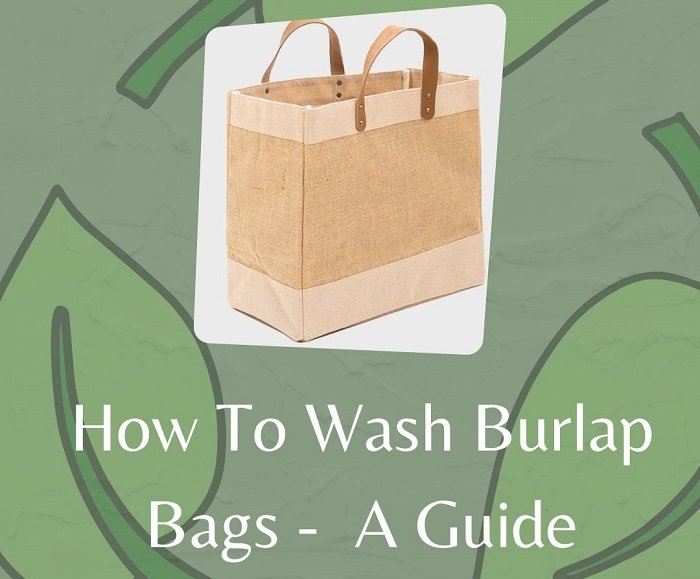 Burlap is a lovely and sustainable eco-friendly material that we use to make bags, packaging materials & several home decor and apparel items. Burlap fabric, like canvas and cotton, is adaptable and becoming more common daily. Yet, you will probably wonder about what to do with soft Burlap bags when they become soiled or dusty. Many of us don't know how to take care of them.
Burlap requires a little more upkeep than materials like canvas, but it is still possible to clean it. We will discover how to properly wash Burlap today so we can continue to enjoy your lovely Burlap bags for years to come.
How to Wash Burlap: The Fabric's Basics
Burlap is a Burlap-based material that is tough, highly durable & long-lasting. Due to its several fantastic qualities, it has become fashionable in the bags and packaging industry.
Burlap products are reusable and sustainable due to their natural, impartial & rustic appearance. So, it's crucial to understand how to care for our favorite Burlap bags and accessories as well as how to wash Burlap.
Burlap Cleaning Guide: Handwashing
Certain Burlap (also known as hessian) items hold up better when washed by hand. But you must choose them carefully because handwashing is recommended only for small final pieces like Burlap tote bags, Burlap sacks & more.
Stain Removal from Burlap
Exactly like cleaning a canvas bag, you should get rid of stains and spots before you start the handwashing procedure for Burlap bags.
Wipe the stain with a wet sponge rather than rubbing it, and then use a dry towel to absorb any remaining moisture.
Alternatively, one can use an oxygen-based stain remover. All you need to do it cautiously test it on the interior of the Burlap bag. Check how the fabric responds. Do this only if you need to deal with tough stains. To get rid of soft stains, make a thin paste using soda and water first. On the stain, spread the paste and left for a few hours.
Odor Removal
Do your Burlap bags stinks? Well, it's a very rare case. For new fresh items, you can smell a somehow bad odor. But it will fade away gradually with constant use. Stinks by other sources can a hefty situation.
You can use baking soda to emit light smells from your Burlap bags. If you smell any stink that is very difficult to get rid of, you should wash the Burlap product with lemon juice. Just spray lemon juice over the fabric and let it dry in the fresh air. You should not use acidic treatments as this could harm the fabric.
Drying
The best way to dry Burlap products is to leave them flat to dry while they are exposed to warm, fresh air. The sunlight does wonders for reducing the growth of fungus, but you should exercise caution because too much sun might bleach the fabric.
Large Burlap bags with gussets, handles, cotton lining, zippers, etc should be dried on a flat surface while maintaining their original shape.
Burlap Cleaning Guide: Machine Washing
We all know that machine washing is tougher than handwashing. You should only put the Burlap items in the machine wash those you are certain will maintain their rigidity and structure. In other words, only wash substantial and long-lasting Burlap items in the machine.
Use cold water. Deploy a short program that is dedicated only to delicate fabrics.
Not advised to use the wring program. Carry the item outside to dry.
Experts advise avoiding machine washing small and delicate Burlap bags because they may shrink, fall apart or gather a lot of lint.
Burlap Maintenance
If you want to iron a Burlap tablecloth, upholstery, or drapery, you should iron while damp. Burlap bags shouldn't be ironed.
Inserting a cardboard box, a few sheets, or a tube in the bag can help to maintain its shape and structure so that the Burlap bags can be used again.
To prevent mold and fungus, store all of your Burlap tote bags and other items in areas that benefit from fresh air flow. As we have discussed earlier, Burlap is a little bit smell-sensitive. So, Burlap bags shouldn't be stored together with odor-emitting products.